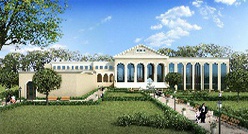 Events

Simchas:



In the late 1950s the Yeshiva moved out of the New York City to Suffern NY, bringing all the advanced students to a fifteen acre campus in the quiet and serene surroundings of upstate New York. The site had housing facilities that were outdated, and in the 1960`s a new building was erected. As the local community grew in the surrounding Monsey area, the Yeshiva expanded our projects and services to accommodate the growth.

The Main Campus of the Yeshiva serves students of all ages and has one of the most highly respected Kollel programs in the world. It has an extensive library of rare books and manuscripts in addition to priceless books and artifacts from the Chofetz Chaim. We are in desperate need for additional space and we have started a major expansion of our facilities.


The Yeshiva

YESHIVA CHOFETZ CHAIM OF RADIN

Copyright Yeshiva Chofetz Chaim 2015

Kiryas Radin

Kiryas Radin is a Mokom Torah with a Beis Medrash and Kollel residence campus. As the need for housing for young Kollel families was severly lacking, the Kiryas Radin project was developed to serve this need. The campus has town-houses and apartment units. It has a large Beis Medrash and serves the entire surrounding community

The Yeshiva Chofetz Chaim Kollel in Kiryas Radin has B"H grown in to one of the preeminent Kollolim in the Monsey area.


Please visit our Projects page for further Information.